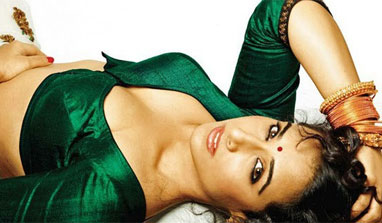 It seems Ekta Kapoor is leaving no stone unturned in giving her film 'Dirty Picture' starring Vidya Balan an authentic feel. She wants to ensure that her film that is set on the backdrop of Madras (now Chennai) looks real, which is why she has recreated the capital city of Tamil Nadu in Film City, Mumbai.

Talking to a tabloid, director Milan Luthria said, "Right now, we are in full Chennai mode. Wherever we look, we see people dressed in lungis. Tamil posters adorn our walls. We start our day by having idlis to get into the mode."

Milan and Ekta who are hell bent on making Vidya look saucy and sensuous as Silk Smitha, the late south Indian sex bomb, want the sets of the film to look real Madras of the 1980s.

"The production designer, the art team and one of my assistants did an extensive tour of Chennai, Mysore, Pondicherry, Ooty and Hyderabad for two months. They came back with 2,000 photographs. These are the places that reflect the flavour we are trying to replicate. We bought books and watched Hindi and Tamil films shot in the `80s. We put all that together and made a colour palette for the film."

Narrating why they chose to recreate Madras instead of shooting in the city down south Milan said, "It`s not possible to shoot a film like this on real location because a lot has changed geographically. You will find new hoardings, building exteriors; malls and multiplexes have come up."

Vidya was ecstatic and surprised when she walked into the sets for the first time. The filmmaker said, "When Vidya walked on to sets, she was zapped. She didn`t feel that she was in Mumbai. Even a couple of producers who dropped in were stunned."